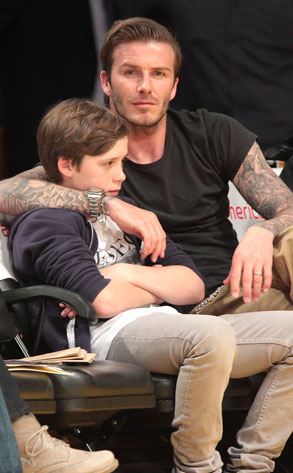 Oh no!
Mr. Posh Spice a.k.a
David Beckham
and his son
Brooklyn
were in a car accident yesterday on the 405 freeway in Los Angeles.
Luckily the two are alright! Here's what happen...
RELATED: David Beckham narrowly avoids Royal Wedding faux pas
Turns out the soccer star hit a broken down gold Mitsubishi stalled in the carpool lane near Torrence, Calif.
"David swerved to avoid a stalled vehicle in the car pool lane and clipped the vehicle," Beckham's rep tells E! News. "Thankfully, he and Brooklyn were not injured."
The driver of the stalled vehicle, however, had to be taken to a local hospital. Beckham was not cited or arrested.
In other Beckham family news, baby number four must be getting closer to its big debut as
Eva Longoria
and
Ken Paves
are throwing
Victoria
a baby shower today! Oh, you didn't know it was today? She's only been
tweeting
about it all morning!
"Very excited about my baby shower!! what do @EvaLongoria and @KenPaves have planned???"
It seems like whatever they have planned it will be
a wet event
:
"I have been told to wear something waterproof for my baby shower!!!! I'm now very nervous!!!!"
Awww
, we were hoping
hats would be involved
(because everything needs more hats!) but forcing Posh to make rain gear fashionable will do!